In 2013, The Garden Gates has some amazing writers. They were talented, witty, and fast. What Chad Everett Harris learned ( yup, 3rd person nonsense) was the without the correct guidance, those keyboard wizard can get carried away.
Take the case of the Palladio garden table and the creative article below.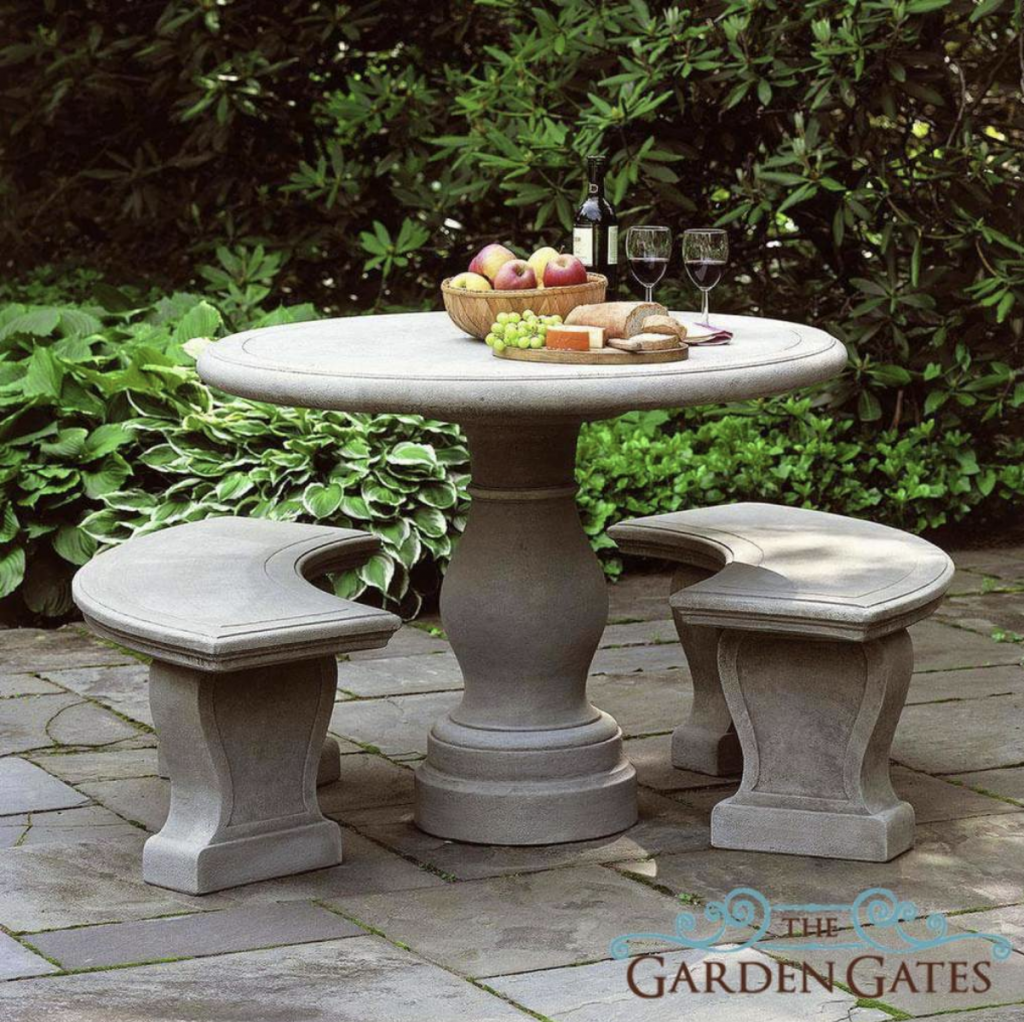 " A dining table can be the perfect piece for a fully decorated outdoor furniture set. Not only do outdoor dining tables create a perfect center for serving up food and beverages to your guests, but the style you choose can be easily matched with other outdoor decor such as planter pots, window boxes, chairs, benches, console tables, or even birdbaths. You can use your outdoor dining table to serve up a full-course meal for guests, have a peaceful Sunday brunch, or simply sit outside and rest while you sip coffee and read your favorite book. These pieces are made to be durable so that they sustain the wear and tear from outside elements that tend to create corrosion over time. The Garden Gates offers outdoor dining tables from popular statuary companies such as Campania International and Kansas City Statuary. Our dining tables are hand created from cast-stone in a variety of styles and color finishes which you can choose from to properly match your personal decor. With our diverse selection of styles and colors to choose from, you're guaranteed to find a comprehensive, long-lasting feature for your garden, backyard, or patio area. Choose the matching fountain, planter group, and benches to really tie in the whole set-up for a perfect arrangement that speaks to you and your guests.

Although outdoor dining tables are made for durability, it is always advised to purchase a cover to fully protect it from weather elements and animals that may create extreme permanent damage. The color finish you choose will naturally evolve over time to create a more organic antiqued look, but in order to preserve this process, it is important to prevent additional harsh damage to the surface of your dining table. Choosing the correct color finish is essential to having the right outdoor furniture. Campania International offers a selection of colors such as Aged Limestone, Alpine Stone, Brownstone, Natural, Copper Bronze, English Moss, Ferro Rustico, Greystone, Pietra Vecchia, Terra Nera, Travertine, and Verde. Although these are wonderful choices, Kansas City Statuary offers a different selection with options such as Rustic Midori, Sepia, River Stone, Rustic Amber, Slate, Weathered Copper, White Wash, Sunset, Vintage, Aztec Jade, Copper, Age, Ancient Verde, Earth, Moss, Natural, English Terracotta, and Khaki Ash. For an additional feature on your outdoor dining table, you can also add an umbrella which locks into the centerpiece. Not only can you choose between various color options to match your furniture, but you can relax in shade away from the sun. If it begins to unexpectedly rain, during your family picnic, the umbrella can be a great tool to protect your meal.

Chad sat at the Palladio garden table, in his backyard. He thumbed at the spread of bread, cheeses, grapes, and olives that was splayed out on the wooden serving slabs. How did he agree to allow his own private back yard to be the host of annual White Glove Ladies luncheon? Ahh, yes, he nodded to himself. It all began with a conversation about an outdoor dining table.
Just three weeks before, he stood, amusing himself at the incredulousness of the elderly women who gathered around him; their pristine white gloves pawing the air like cats vying for his attention. They clamored him with questions about when they could redesign their backyards, the right furniture that would truly open up their outdoor foyer, and how to choose the perfect outdoor dining table (for lighter social gatherings of course).

He spun around, his eyes glazing over with a half smile on his face while he placated them with sensational statements about all the products and services he could offer them. "And we'll do the best job in the city, for the best deal!" "This one is made of cast-stone! It'll last forever!"
"Oh, my word!" They gasped, and placed their bleached gloves over their mouths in excitement.
Gladys, the eldest of the elderly bunch, firmly placed her pearled hand onto Chad's arm as he pulled away to escape. "I simply must have that Palladio garden table, but I never purchase anything without inspecting it up close."
Chad tried to loosen his arm from her grip, but she held on tight with the same clench that she would grip her last will and testament just 18 months later when death would dive in to kidnap her away. Even in the end, she held on for what she deemed to be the most important occasions and, in this instance, that Palladio dining table was of the utmost urgency. "Your website says that the table is on backorder! I'm hosting a dinner next month, I must have it by then! Can you pull some strings?"
'Damn,' he thought. 'Who taught the elderly how to use the internet?!'
"I'm sorry," he said, "I can't control when that item arrives. It's out of my hands! What about another table…"

"Only the Palladio will do!"
Chad's eyes widened. 'Jeez, this lady is crazy!' he thought. "I don't know what to tell you. The only Palladio table that even exists in this city is in my own backyard, and I love it too much to sell it!"

"Well then, what are we going to do?!"
Chad grinned a sly grin. He had finally won! The old woman couldn't argue with that kind of statement! Gotcha!
"I don't know, ma'am. I guess you'll have to order another table from The Garden Gates and be satisfied."
"As I said before, young man, only, the Palladio dining table will do! I have a gathering next month and everyone must sit at that glorious round table! Since you're the only one in the city who owns it, then I'll be paying you to host my event at your home. I assume your house is big enough…"
"Yeah, its a big house with lots of room. Look, you can't just come to my house and serve up wine and cheese! I mean…it's my house!"
"Young man, do you know who I am?"
"Yeah, I guess. You're one of the White Glove Ladies of New Orleans, but – "
"I'm the White Glove Lady of the World. Now, give me a price. I'll look up your address on the internet."
Argh! The internet! Chad clenched his teeth and came up with the highest amount he could fathom. She'll outright reject him with an offensive amount such as that!
"How much;" Gladys replied. "Oh you're so sweet to give me a discount deal!" She clasped her hands together in glee.

"Lady, you're crazy!" Chad wheezed, finally pulling his arm away from her firm, venerable grip.
She cackled loudly, "I'm not crazy, young man! I'm rich!"
Chad ran out of the luncheon, tearing the stuffy herringbone blazer from his body and tossing it into the nearby bushes. "Unbelievable," he muttered to himself. "Just unbelievable."
It is important to create a balance of witty versus insane creative writing about garden decor, this writer took things a little too far.
To learn more about Creative Marketing Ideas from Chad Everett Harris, message him at @chadeverettharris.