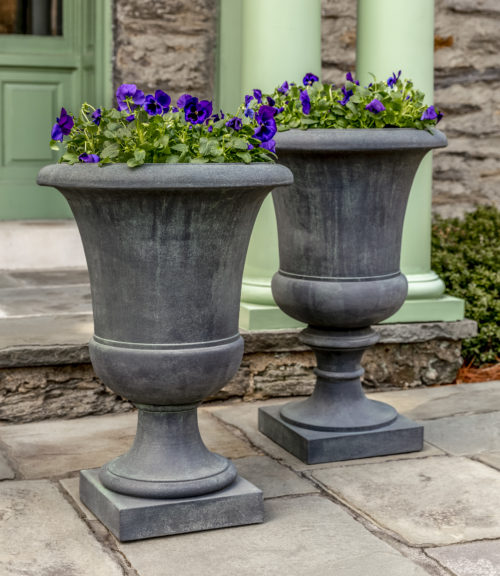 Urns were (and still are) used as a means to contain the ashes of a loved one once they are cremated. Nowadays, cast stone urns have taken on additional functions. Their exceptional ornamentation and fluted bodies have similar features of planter pots that are used in gardens all over the world. Urns, however, typically also feature handles, garland accents, and sit on plinth platforms, making them much more ostentatious than the usual planter. If you have a sense of flair that you like to show off when picking out decor, an urn can be a valuable addition in your garden. The ornamental features of the garden urn can liven up any environment. Often times, its exceptional accents help to transform a garden into a more traditional setting.

The Garden Gates specializes in working with customers to present a versatile mix of styles of garden urns. Campania International and Kansas City Statuary are two of the most well-respected artisans in the nation, and their speciality in cast-stone artistry results in a quality, cosmetic garden urns that you can use to adorn your outdoor living area. These pieces come in a selection of color washes. Campania International features Aged Limestone, Alpine Stone, Brownstone, Natural, Copper Bronze, English Moss, Ferro Rustico, Greystone, Pietra Vecchia, Terra Nera, Travertine, and Verde. Kansas City Statuary, on the other hand, features Rustic Midori, Sepia, River Stone, Rustic Amber, Slate, Weathered Copper, White Wash, Sunset, Vintage, Aztec Jade, Copper, Age, Ancient Verde, Earth, Moss, Natural, English Terracotta, and Khaki Ash. Artisanal designers like Campania and Kansas City Statuary understand beauty and functionality, making their urn creations the most unique and sought-after in the market.

A dramatic urn was often representative of how beloved a person was when they were alive. In a garden scenario, this can be replicated without the need to mourn the passing of a loved one. When guests stroll through your property, it could be assumed that the more embellished an urn is, the more you love tending to your garden. The nurturing care you give to your plants and flowers will naturally lead to an elaborate and meticulously designed outside area, but the extra ornamentation will help to emphasize it ten-fold. The fluted bodies, the curved lips, and embossed decorative details will easily compliment the similar organic shapes and impressions of your garden. I addition to this, each of the color washes offered from the Garden Gates will fade naturally over the years, creating an organic, one-of-a-kind patina finish that will blend even more perfectly with your garden over time.

The shape of an urn can dictate the way in which you choose to express yourself. An elongated body with a greater height can reach above the garden foliage and present itself more prominently. The Williamsburg Jefferson urn, the Morgan Iron Scroll urn, and the Smithsonian Goblet urnare all examples of the vertically pronounced garden pieces from the Garden Gates which you can place on a pedestal for even more height. Opposite of these steep urns, you may choose to move your decor lower to the ground. These types of urns look best when placed on flat, open ground. Many homeowners choose to create a bed of colored gravel as a liner to a walkway or an open space within the garden. By placing a wider, shorter urn in the center, you can draw onlookers' eyes toward one singular piece. The Garden Gates offers a generous selection of horizontally prominent urns such as the Rustic Palazzo urn, the Vintage St. Charles urn, and the Brio urn.
You can find the perfect selection of large planter urns from the Garden Gates in a variety of finishes and sizes to make a statement that is both stately and timeless. Each cast-stone urn is intended to last a lifetime. Urns, much like planter pots, can be used to accent your deck or patio. Part of the fun of decorating your patio area is setting up a table and chair or a couch and feeling relaxed in the environment that facilities a cohabitation between your indoor living area and the surrounding outdoors. Urns can be filled with beautiful plant arrangements. This can gradually introduce guests from the comfort of a sterile indoor setting to the organic, unkempt outdoors. By blending the features of both locations, you can create an environment that everyone will enjoy visually and feel comfortable with emotionally. The origin of urns comes from a situation of great emotional depth, so it is fitting that they continue to evoke so much within us, even today.